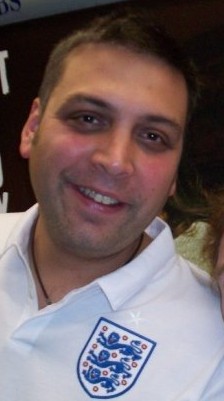 Mark Monk, Sept 2009
Following on from the success of his cult-book in the Autumn of 2008 "There's a light that never goes out", local writer Mark Monk now turns his focus to events that happened to him whilst growing up in Shepshed, Leicestershire between 1980-1986.
Entitled Shepshed MCMLXXX (1980) the site sees Mark recalls his formative years in Shepshed, including his time spent at St Botolph's School which included an unfortunate incident with a dinnerlady, his graduation to Shepshed High School and being forced to wear the dreaded flares. He recalls his teenage dabbling with the skinhead movement, CND, recalling major events such as the Falklands War, Margaret Thatcher's visit to Shepshed in 1984 and the Miners Strike.
He pays homage to the fashions, music, films and admittedly awful television programmes of the era....and who could forget the girls?
Was he acceptable in the 80's? - find out for yourself!!!
Inspired by the success of cult website "Things me and my girlfriend have argued about", Mark elected to produce his work on the www for everybody to see for free. He explained "Shepshed was and still is a wonderful place. There was so much going on back then. I wanted to share those times with the world! In the current economic climate, it does not seem right in trying to make a profit from what essentially is my hobby. I have thoroughly enjoyed doing the project and I hope it finds a place in the heart of Shepshedians old, new and those who have never been to Shepshed!"
ENDS.