The site charts my time at school in Shepshed in the 1980's, St Botolph's Primary and then Shepshed High School.
I remember the pastimes and laughs we had, unlike the NERD generation of today, we had to get off our backsides and did not have things such as Playstations, DS's and Wii's to amuse us.
I remember the music of the times, the fashions, the TV, major events and of course....THE GIRLS!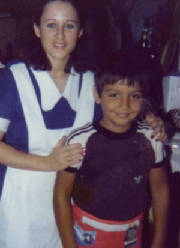 Malgrat 1980 - me and a senorita!